Six Christmas Surprises

Time: 12/24 - 12/30
Server: All Servers
Rules: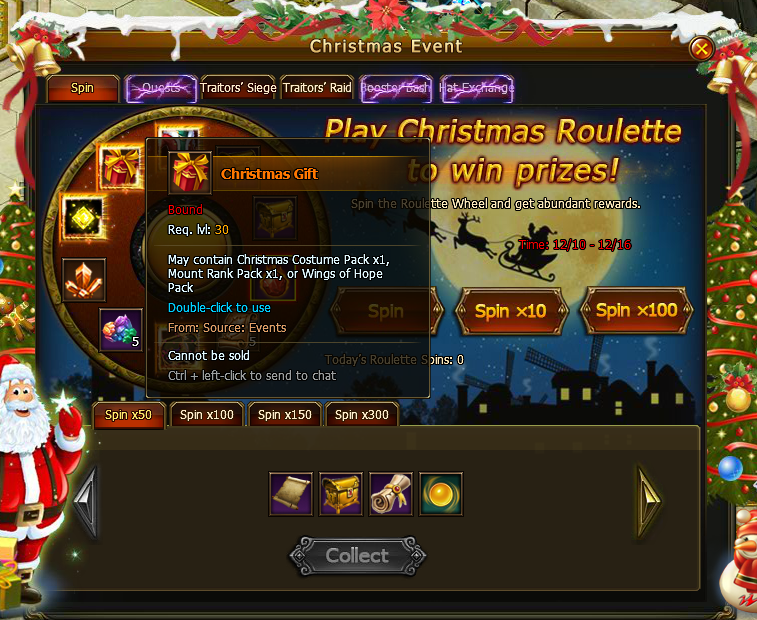 1. Holiday Quest
Details:
We have a holiday quest for you during the Christmas event: Kill a specific monster x times to win rewards. Note: Holiday Quests reset daily during the event.





2. Collect Christmas Hats to Exchange for Rewards
Details:
During the Christmas event, players can collect Christmas Hats by defeating monsters in Traitors' Siege. Collected Christmas Hats can be exchanged for corresponding items.
Note: Players can only exchange Christmas Hats once per day. Exchange resets daily.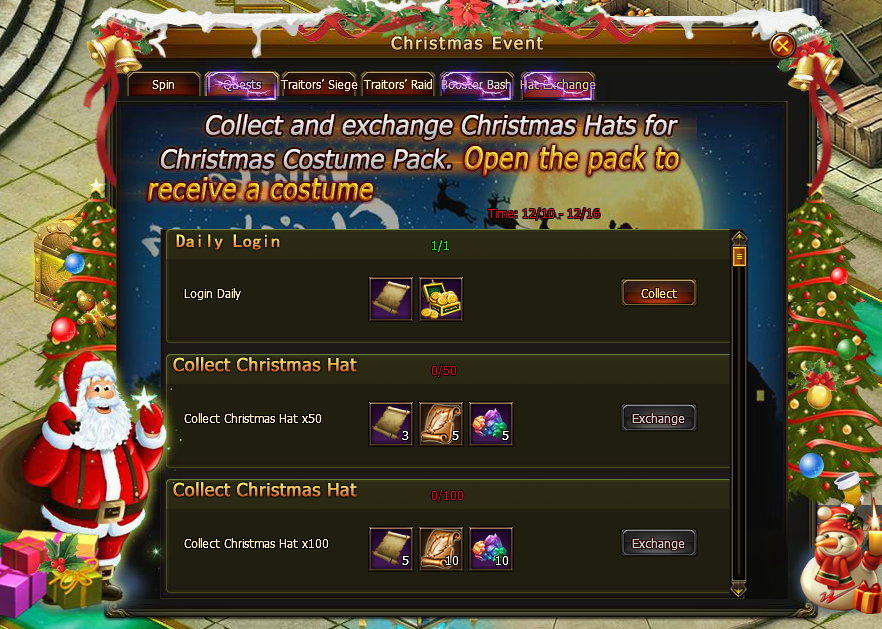 3. Booster Bash
Details:
1. During the Christmas event, buy a certain amount of Diamonds to get handsome rewards.
2. Players will be ranked after completing all Booster Bash events.
3. The top 3 players can get extra rank rewards (ranking will be based on total Diamonds purchased during the event. If 2 players bought the same amount, it will be decided by order time).
4. The top ranked player can get a pair of rare, limited edition Wings. The Wings will be delivered through in-game mail.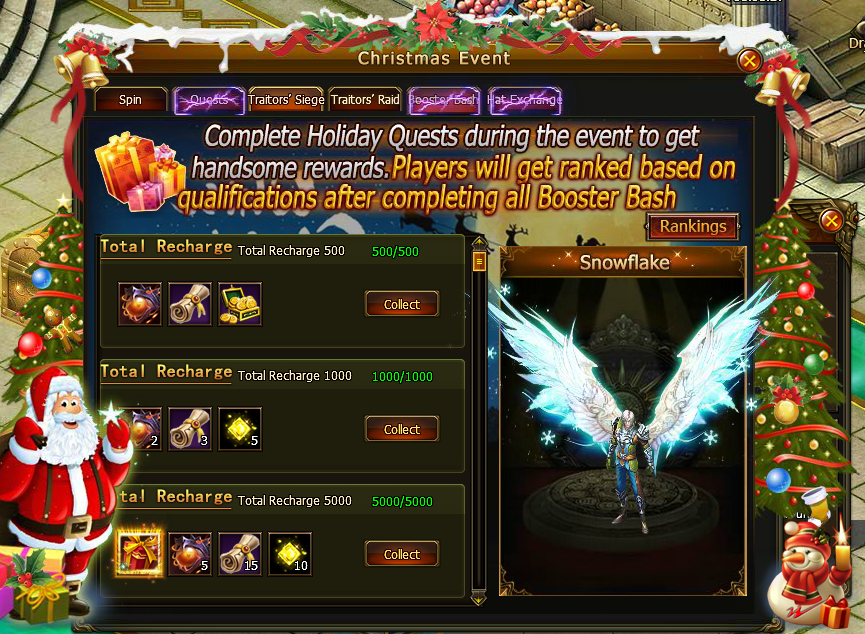 4. Play Christmas Roulette to win prizes!
Details:
During the event, play Christmas Roulette to win handsome prizes!
Rules:
During the event players can click on [Spin], [Spin x10], or [Spin x100] to win prizes.
Spin the Roulette certain times everyday to get extra rewards which can be claimed once per day, resets daily at 00:00.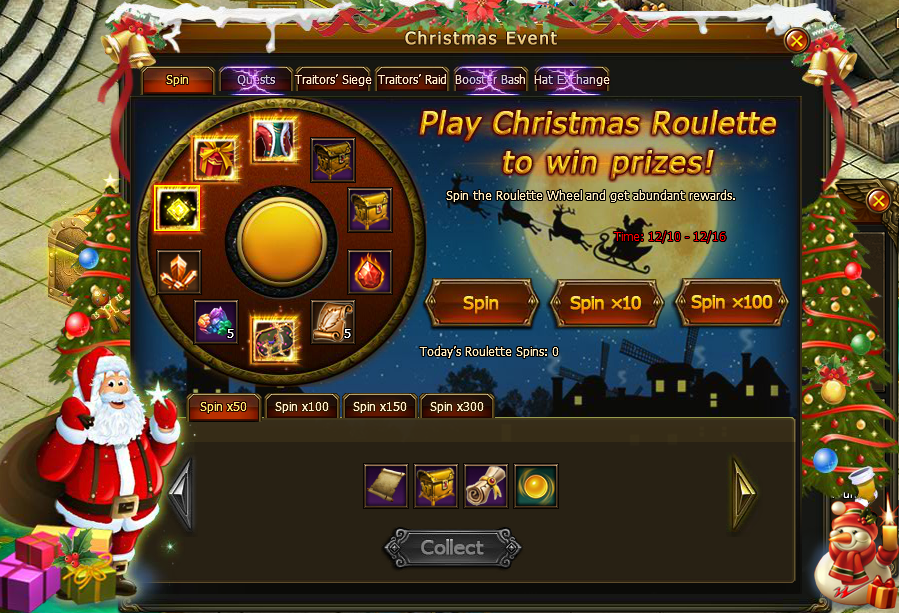 5. Traitors' Siege
Details:
During the event, kill the monsters in Athens to collect Christmas Hats. Christmas Hats can be used to exchange for items.
Note:
1.If the monsters haven't been killed in 3 minutes, they will vanish.
2.You can't be in a party.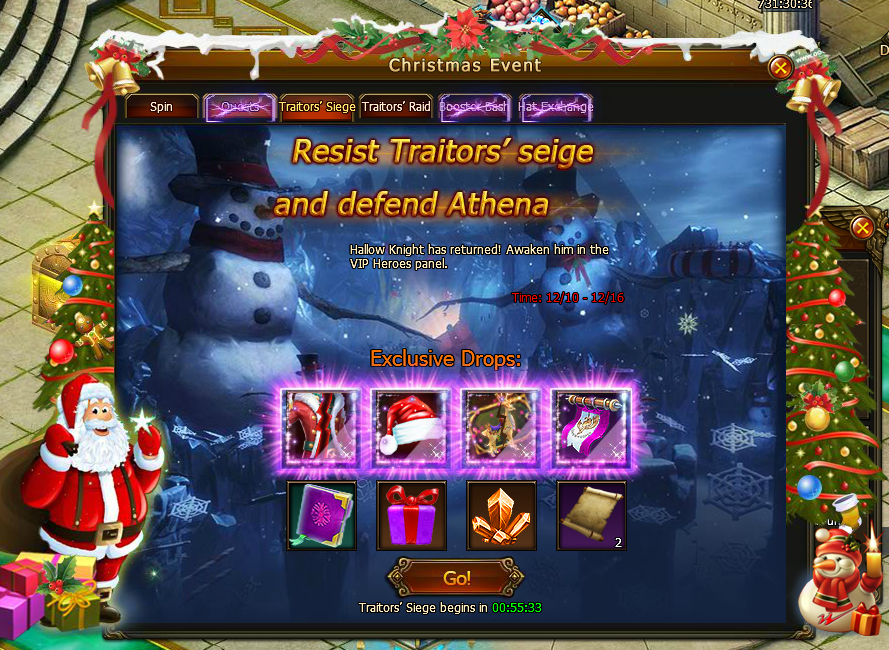 6. Traitors' Raid
Details:
During the Christmas event, kill the Holiday BOSS in BOSS Raid to get handsome rewards!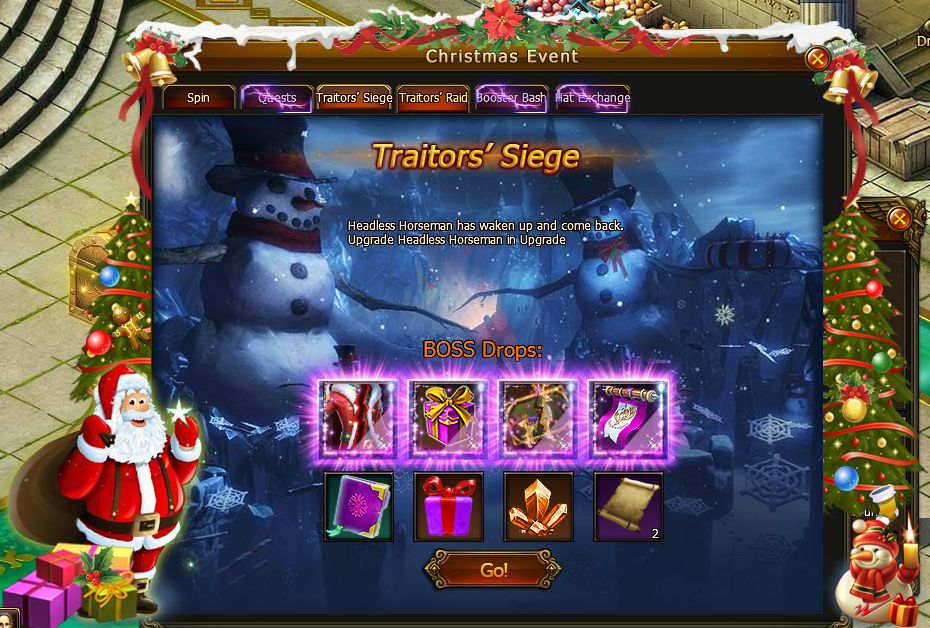 R2Games Mythborne Ops Team

Official Site: http://myth.r2games.com/
Official Forum: http://forum.r2games.com/forumdisplay.php?529-News-amp-Events
Facebook: https://www.facebook.com/pages/Mythborne/1479086732340114
Twitter: http://twitter.com/Mythborne