Great Bargain
Duration:7/4 - 7/10
Servers:S1 – S75
Requirements: Lvl. 30
Rules: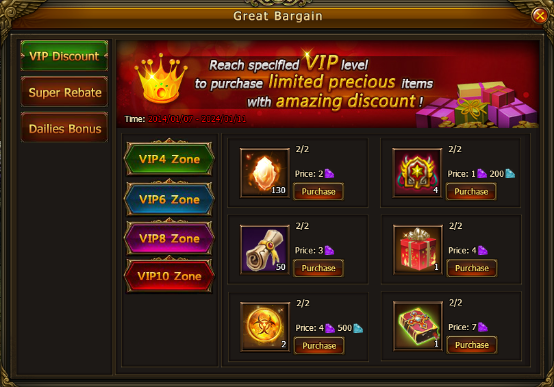 Great Bargain includes three events: VIP Discount, Super Rebate and Dailies Bonus.

1.VIP Discount: Includes four VIP zones: VIP4 Zone, VIP6 Zone, VIP8 Zone and VIP10 Zone. Reach specified VIP level to purchase limited precious items with amazing discount. The higher the VIP level, the lower the price.

2. Super Rebate: Collect corresponding rewards by reaching specified recharge or consumption amount. Each reward can only be collected once.

3. Dailies Bonus: Complete specified daily quests to get handsome rewards. The quest will reset at 00:01 daily. The rewards won't be sent to you through in-game mail, the uncollected rewards will be wiped at 00:01 the second day.

Universal Discount
Duration:7/4 - 7/10
Servers:S1 – S75

Requirements: Lvl. 30
Rules:


3 events are included (Special Sale, Booster Bash and Teamwork Discount).

1. Special Sale: Outfit, Mount, Wings and special items are available here (Requires corresponding Refresh items).

2. Booster Bash: Get corresponding rewards by recharging the specified amount.

3. Teamwork Discount: There are 2 phases: subscription and settlement. The more subscribers, the lower the price for everyone.
Subscription rules:
1. The corresponding discount will be confirmed if the subscribers reach the specified amount.
2. Every item can only be subscribed to once during the event.

Settlement rules:
1. After successfully subscribing, you can collect the rewards before the settlement time is reached.
2. The settlement time starts counting down on the 7th day of the event.
3. The rewards will be sent to the you through in-game mail if you were not able to collect your rewards in time (the price difference will not be refunded however).

Super Swap
Duration:7/4 - 7/10
Servers:S1 – S75
Description:During the event, complete certain quests to obtain Giveaway Pts. Different events reward different amounts of Pts. Use the Giveaway Pts in the Super Swap interface to exchange for rare items and a special mount.*
Click the 'Super Swap' icon to enter.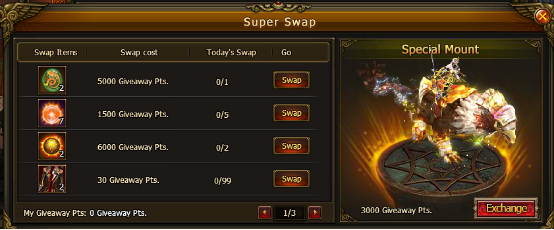 Recharge Spree
Duration:7/4 - 7/10
Servers:S1 – S75
Description:*Players Lvl. 15+ who recharge enough Diamonds can collect on various Diamond Returns. In addition, they'll be able to dig for Diamonds in the Treasure Hunt!

Click the

icon to enter.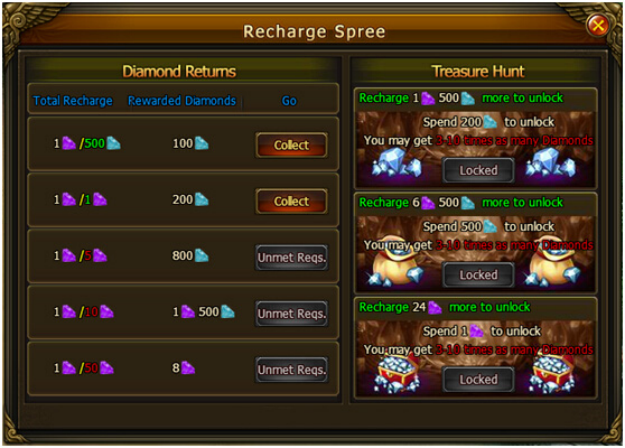 Rules:
Diamond Returns
- The figures under the total recharge column show the amounts for Your current recharge / Target recharge.
- Each of the target rewards can only be collected once.
- Recharge amounts accumulate, so if recharge 1000 Diamonds, you will be able to collect both the 100 Diamond and 200 Diamond rewards.
- Clicking Collect doesn't subtract from your accumulated recharge amounts.

See the chart below for the specified requirements:


| | |
| --- | --- |
| Requirements | Unlock Cost |
| Recharge 2500 Diamonds cumulatively | 200 Diamonds |
| Recharge 7500 Diamonds cumulatively | 500 Diamonds |
| Recharge 25000 Diamonds cumulatively | 1000 Diamonds |