Discount in Vault

Duration: 01/16 5:00 - 01/22 23:59
Servers: S1 – S95
Description: During the event, Vault items has a probability of half off.


Diamond Rebate

Duration: 01/16 5:00 - 01/22 23:59
Servers: S1 – S95
Description: During the event, players can obtain Tokens by spending and recharging, which are exchangeable for special items. Players get 1 Token per recharged Diamond, and another per each Diamond spent in the Vault and the Shop. With enough Tokens, you can also collect the free items on the left. Collecting the items on the left won't consume any Tokens.
Click the 'Diamond Rebate' icon to enter.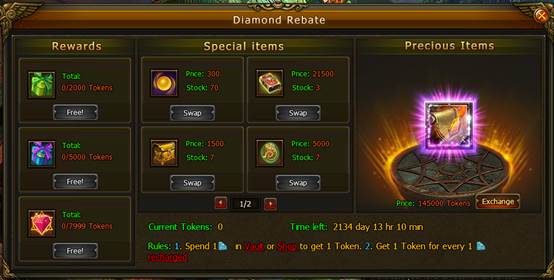 Loyal Patrons

Duration: 01/16 5:00 - 01/22 23:59
Servers: S1 – S95
Details:
1. Recharge for 7 consecutive days to receive special items including Wings, Mount and Outfit.
2. Recharge the right amount of Diamonds during the event to collect daily gifts.
3. Daily gifts can only be sequentially claimed once per day.
4. Recharge for 7 consecutive days to claim huge rewards.
5. Recharging resets when the event is over.
6. Unclaimed rewards will be distributed by mail.


Recharge Spree

Duration: 01/16 5:00 - 01/22 23:59
Servers: S1 – S95
Description: Players Lvl. 15+ who recharge enough Diamonds can collect on various Diamond Returns. In addition, they'll be able to dig for Diamonds in the Treasure Hunt!
Rules:
Diamond Returns
- The figures under the total recharge column show the amounts for Your current recharge / Target recharge.
- Each of the target rewards can only be collected once.
- Recharge amounts accumulate, so if recharge 1000 Diamonds, you will be able to collect both the 100 Diamond and 200 Diamond rewards.
- Clicking Collect doesn't subtract from your accumulated recharge amounts.

See the chart below for the specified requirements:
| | |
| --- | --- |
| Requirements | Unlock Cost |
| Recharge 2500 Diamonds cumulatively | 200 Diamonds |
| Recharge 7500 Diamonds cumulatively | 500 Diamonds |
| Recharge 25000 Diamonds cumulatively | 1000 Diamonds |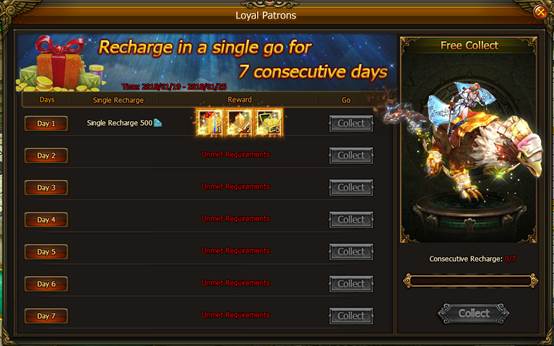 Raffle

Duration: 01/16 5:00 - 01/22 23:59
Servers: S1 – S95
Description: Lvl. 30+ players can get bucketfuls of rare and special items by simply clicking the move icon, which will roll a die and move the marker over to land on one of many prizes.
Click the icon to enter.
Rules:
- Click the 'Move' icon on the bottom-right corner of the screen to roll the dice. Your marker will move a given number of spaces based on what's shown on the dice roll.
- Each move consumes one move attempt. Each player will have one free move attempt when they first start out during one event, and will obtain a move per every 200 Diamonds spent. They can also gain one free move by staying online for 3 hours at a time, up to 8 free move attempts if they stay online for a whole day.
- Players will be able to obtain many types of rewards depending on where their marker lands. There're two categories of rewards: common rewards (the Raffle Reward Packs) and rare rewards (the chests).
The rare chests contain two parts:
1. A Raffle Reward Pack of a random level, which can be obtained immediately after landing on the chest, and allows you to get Jewels from it.
2. A Recharge Pack, which unlocks immediately after the cumulative recharges - that happen while the event is going on - reaches the required amount.
There are 6 kinds of recharge packs in total. Each type of Recharge Pack can only be collected once, but the recharges accumulate and the amounts apply towards the next target's rewards.
The contents of the Recharge Pack depend on the amounts players recharge. Hover the cursor over the chest to see the specific items contained in the various packs.