Mythborne All Servers will be under maintenance at 16:00 PM GMT+8, 09:00 AM GMT, 04:00 AM EST, 01:00 AM PST on April 14th.

Maintenance is expected to take approximately 2 hours. Players may lose server connection or be unable to login to the game. Please keep an eye on this thread in our forums for any updates or changes!
[Patch Notes]
New content:
Event: Universal Discount
Time: 4.14 - 4.20
Requirements: Lvl. 30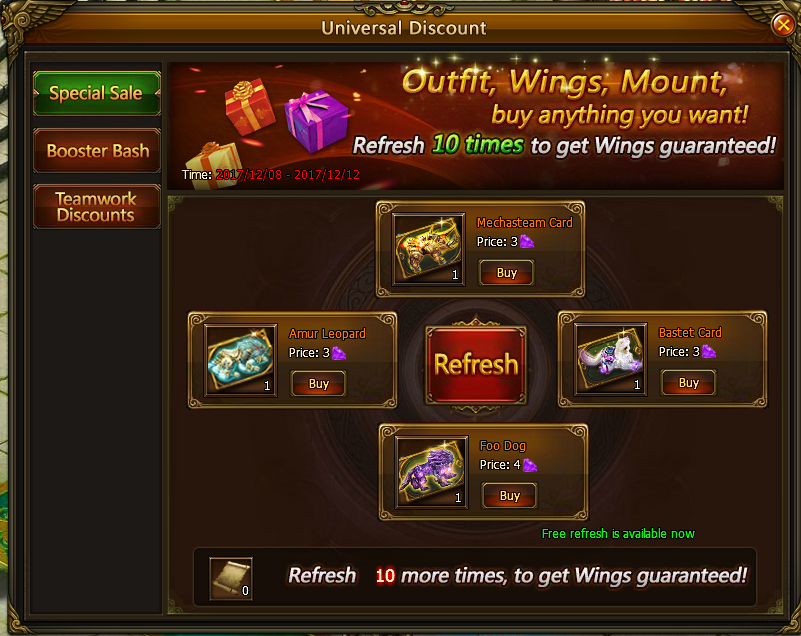 Rules:
3 events are included (Special Sale, Booster Bash and Teamwork Discount).
1. Special Sale: Outfit, Mount, Wings and special items are available here (Requires corresponding Refresh items).
2. Booster Bash: Get corresponding rewards by recharging the specified amount.
3. Teamwork Discount: There are 2 phases: subscription and settlement. The more subscribers, the lower the price for everyone.
Subscription rules:
1. The corresponding discount will be confirmed if the subscribers reach the specified amount.
2. Every item can only be subscribed to once during the event.
Settlement rules:
1. After successfully subscribing, you can collect the rewards before the settlement time is reached.
2. The settlement time starts counting down on the 7th day of the event.
3. The rewards will be sent to the you through in-game mail if you were not able to collect your rewards in time (the price difference will not be refunded however).
Optimized content:
1. Optimized Super Swap rewards
2. Optimized Diamond Rebate rewards
3. Expanded Outfit Upgrade to T25
4. Some items can be stacked to 999 now