Mythborne All Servers will be under maintenance at 16:00 PM GMT+8, 09:00 AM GMT, 04:00 AM EST, 01:00 AM PST on May 19th.
Maintenance is expected to take approximately 2 hours. Players may lose server connection or be unable to login to the game. Please keep an eye on this thread in our forums for any updates or changes!



[Patch Notes]

New content:


Event: Great Bargain


Event Time: 5.19 - 5.25
Requirements: Lvl. 30
Rules: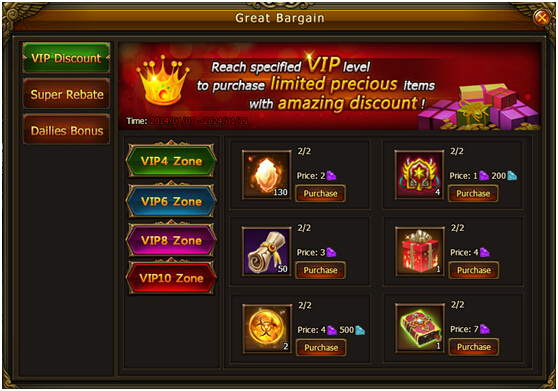 Great Bargain includes three events: VIP Discount, Super Rebate and Dailies Bonus.

1.VIP Discount: Includes four VIP zones: VIP4 Zone, VIP6 Zone, VIP8 Zone and VIP10 Zone. Reach specified VIP level to purchase limited precious items with amazing discount. The higher the VIP level, the lower the price.

2. Super Rebate: Collect corresponding rewards by reaching specified recharge or consumption amount. Each reward can only be collected once.

3. Dailies Bonus: Complete specified daily quests to get handsome rewards. The quest will reset at 00:01 daily. The rewards won't be sent to you through in-game mail, the uncollected rewards will be wiped at 00:01 the second day.




Optimized content:
1. Adjusted the rewards for Teamwork Benefits.
2. Added gift packs in the Universal Discount.
3. Expanded Champion Clash contents.