New Content for 11-26 Update!

Dragon's Trial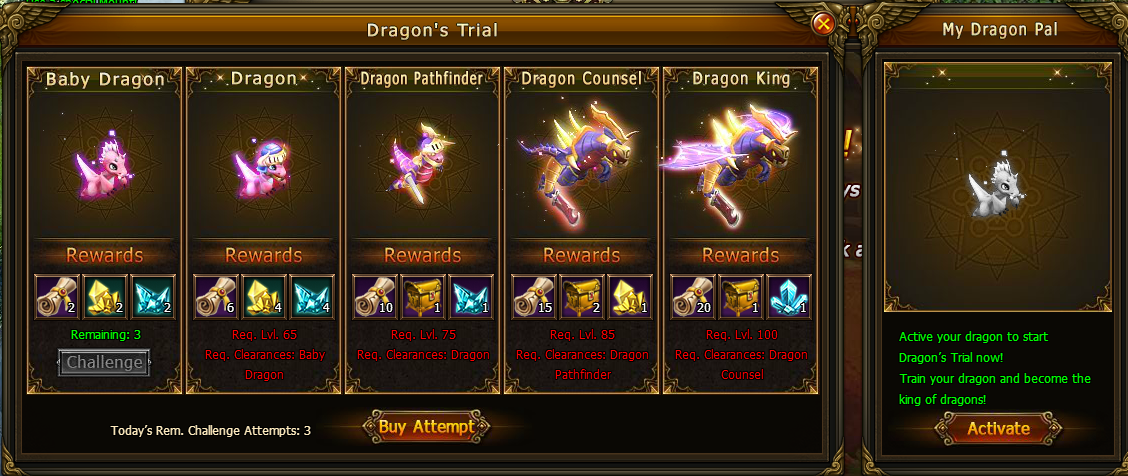 Requires: Lvl. 55
Rules:

How to unlock Dragon's Trial
Activate and morph your [Initial Dragon Pal] after reaching the required level to unlock Dragon's Trial.

How to upgrade Dragon Pal
Activate a Dragon Pal → Morph Dragon Pal to unlock Dragon's Trial → Obtain Dragon Pearl → Train your Dragon Pal to get stat bonuses for deployed Heroes → Get new morph looks, start new stat training and improve your Dragon Pal stats → Final stage
Note: Dragon Pearls which are used for upgrading your Dragon Pal can be obtained in Dragon's Trial.

Challenge Rules:
You have 3 free challenge attempts daily, every entrance will cost 1 attempt whether the battle is won or lost. Attempts reset at 00:00 daily.
You will get 2 same spot revive attempts every time you enter the dungeon.



Optimized In-game Icon Arrangement

Description: Some in-game icons have been re-arranged during the update including: daily events, time limited events, and more. Check them out in-game for details.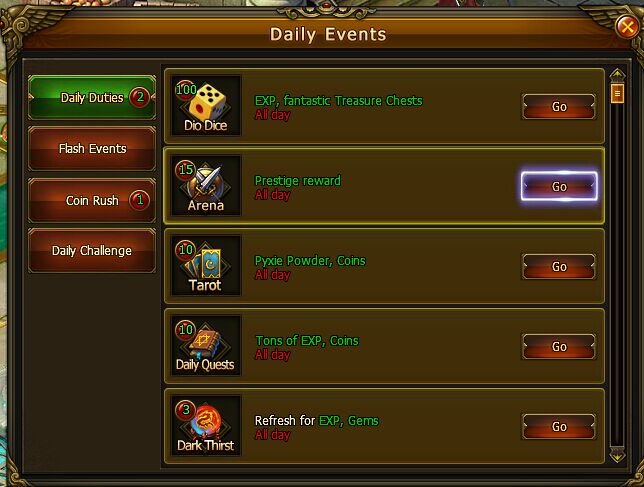 Optimized Wings

Optimized Display of Special Wings Panel:
Optimized the display for "Total Bonus Stats" (increased wing stats display in the red box when upgrading wings).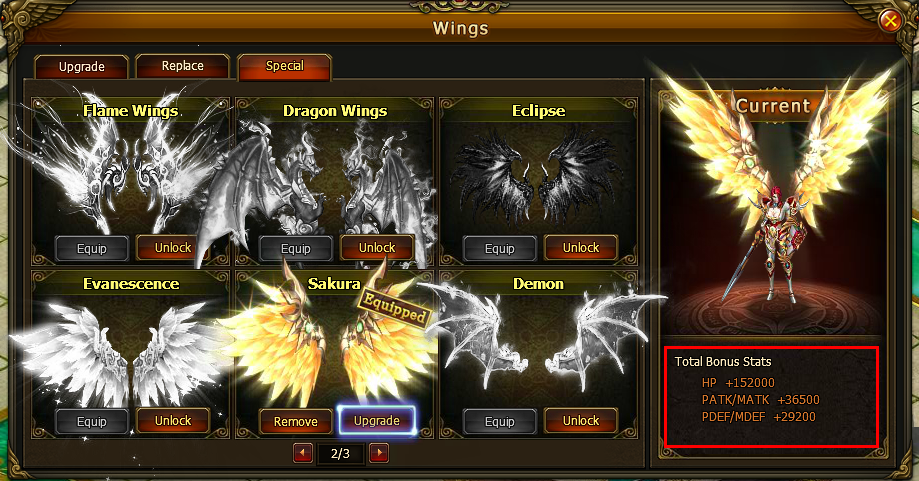 Optimized Special Wings Tips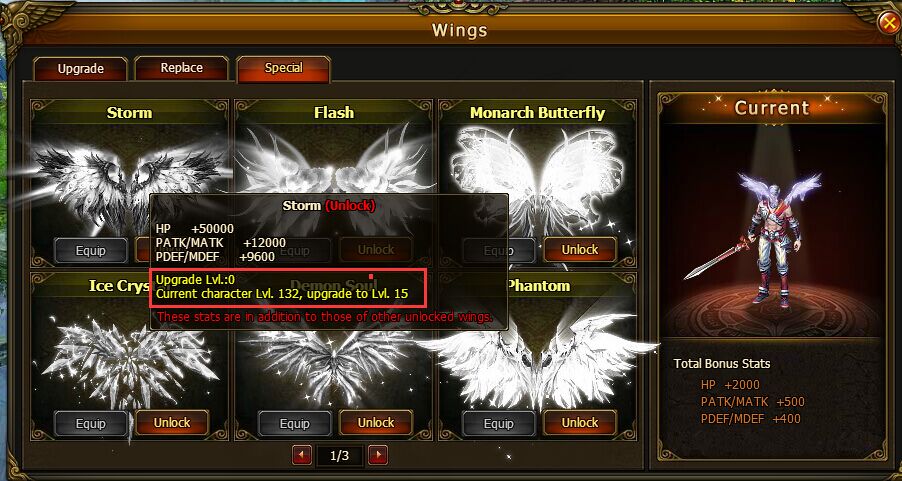 The Upgrade button will have a special effect when you have special wings to upgrade.




Optimized Stats, Rules and Tips Wing Upgrading:
After upgrading, stats will be increased by 100% instead of 20%.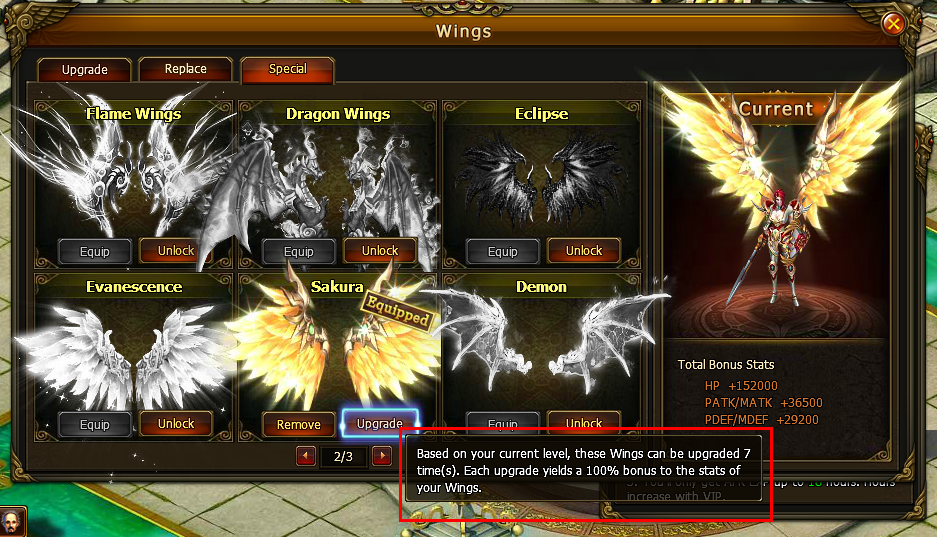 Optimized Haunted Cavern

1. Changed the monster image to a turkey.
2. Defeat the monster in Haunted Cavern for a chance to get turkeys.
3. Turkeys are available in the Vault.
Note: Double click turkeys to get items.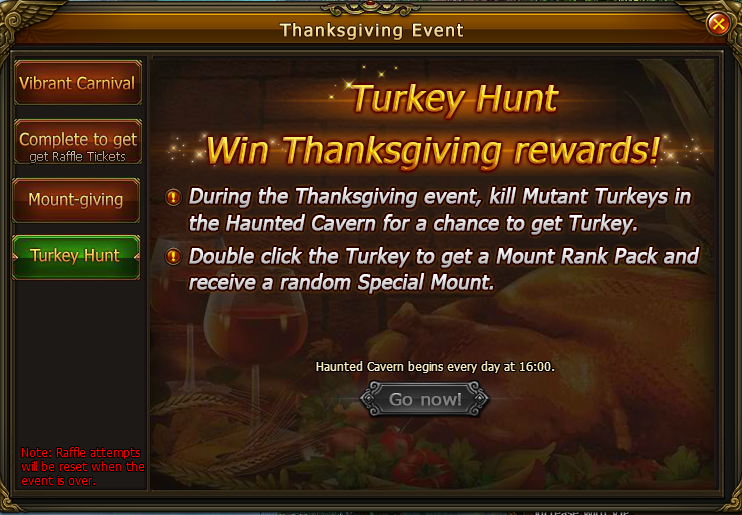 ————————————————————————————————————————————————————————————————————————————————————————

New Content for 11-27 Update!

Thanksgiving Event

Time: 11.27 - 11.29
Server: S1 - S65
Requires: Lvl. 30

Operation Blitz
Details: During the event, Blitz Dungeons a certain number of times to be rewarded!
Rules: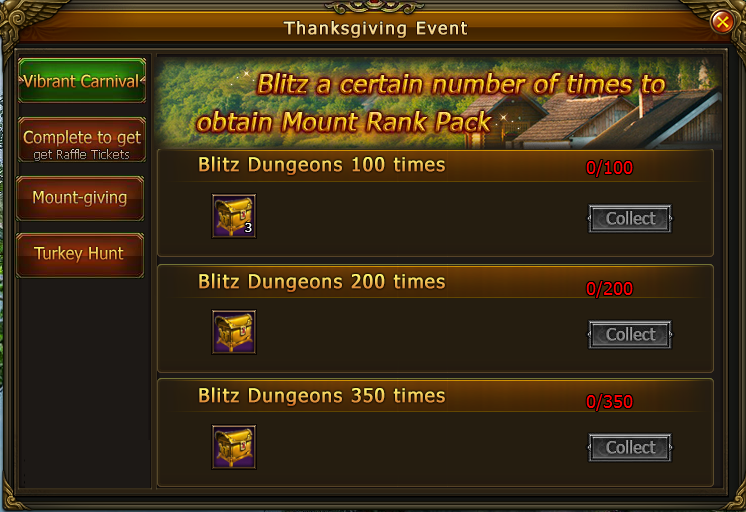 1. The quest will reset at 00:00 daily after completing it. If the rewards haven't been collected, they will be sent to you at 00:00;
2. The quest will not reset if it hasn't been completed, and Blitz attempts will be reserved for the next day.


Wheel of Fortune
Details: Meet the event requirements to spin the roulette for rewards!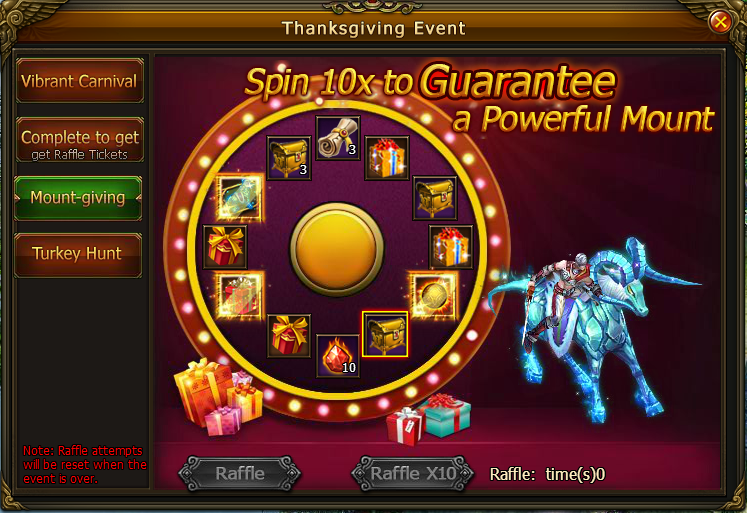 Rules:
1. Get Raffle Ticket by logging in to the game or completing recharge and Stamina purchase quests;
2. You can choose to spin once or 10 times in a row according to the Raffle Ticket you own.
3. The roulette rewards will be sent to your Bag, please be sure to check it.


Diamonds Pack
Details: Reach the required amount for a single recharge to get rewards!
Note: More luxurious rewards will be unlocked if a single recharge reaches 200,000[M901]!
Rules: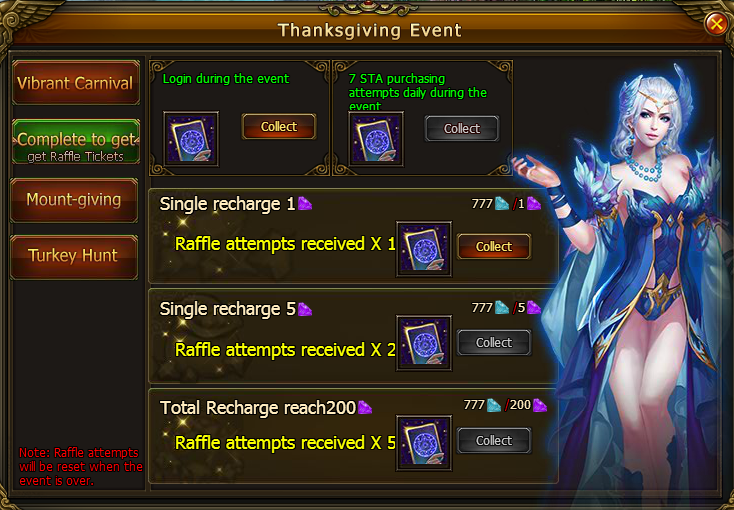 R2Games Mythborne Ops Team

Official Site: http://myth.r2games.com/
Official Forum: http://forum.r2games.com/forumdisplay.php?528-Mythborne
Facebook: https://www.facebook.com/pages/Mythborne/1479086732340114
Twitter: http://twitter.com/Mythborne